Publication of the first book in the Bristol University Press book series Spaces of Peace Security and Development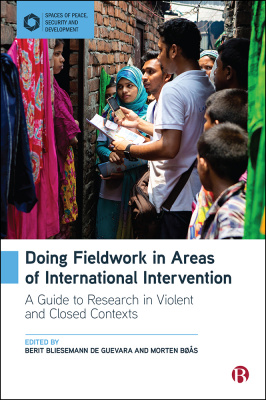 The co-editors of the Bristol University Press book series Spaces of Peace Security and Development, including Prof. Dr. Jana Hönke of the University of Bayreuth's Sociology of Africa chair group, are proud to announce the publication of the first book in the series.
The first book, Doing Fieldwork in Areas of International Intervention: A Guide to Research in Violent and Closed Contexts, is co-edited by Berit Bliesemann de Guevara, from the advisory board, and Morten Bøås. The book, which is an honest appraisal of the practical challenges of fieldwork, has received excellent reviews. It has global and cross-disciplinary content and, the co-editors feel, should be required reading for everyone including PhD students up who are going into the field and facing practical and ethical, personal and professional dilemmas as they do so. Please see the attached sample chapter.
The co-editors welcome author suggestions, particularly from established authors who are planning a monograph on relevant themes, to contribute to the series. If you know of colleagues or contacts planning a monograph on our themes please send us their contacts. The co-editors would also be delighted to accept submissions from anyone who has a book in progress.
The co-editors will be at various conferences throughout the year on the Bristol University Press stand. Please do drop by and say hello at:
• ISA, Hawaii, US, 25-28 March* – Shahar
• AAG, Denver, US, 6-9 April - Sara
• BISA, Newcastle, UK, 17-19 June – John
• EWIS, Brussels, Belgium 1-4 July 2020 - Jana
• EISA, Malta, 16-19 September – Jana and Shahar
* BUP exhibit will be part of the University of Chicago Press stand.