Jan. 26: Bayreuther Peace Talks: "11 Monate Krieg gegen die Ukraine" (11 Months of War Against Ukraine)
24.01.2023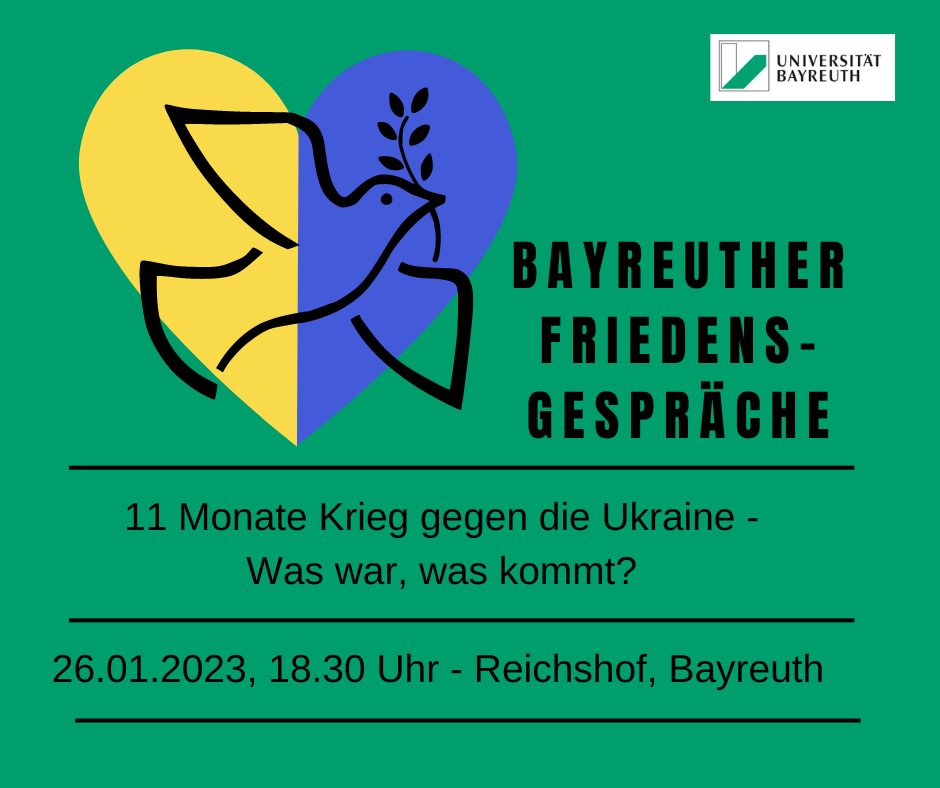 On February 24, 2022, Russia began its attack on Ukraine. Almost a year has passed since then. The University of Bayreuth would like to take this as an opportunity to take stock: What has happened in these last eleven months, how has the war developed? What effects has the war had on the Ukrainian population and politics? What repercussions can be identified in German and European discussions? What can be expected for 2023?
A panel discussion hosted by the President of the University of Bayreuth, in cooperation with the Network for Peace and Conflict Studies at UBT and the Reichshof Bayreuth, will shed light on these aspects



Location: Reichshof Kulturbühne Bayreuth, Maximilianstr. 28
Time: 18:30 - 21:30
No registration necessary.
The event is sponsored by the internal funding pool of the University of Bayreuth.
---
Speakers:


Prof. Dr. Polina Barvinska,Professor of Modern and Contemporary History at the I.I. Mečnykov University Odessa in Ukraine, currently a visiting scholar at the LMU Munich and at the Institute for Eastern European Studies Regensburg


Prof. Dr. Martin Doevenspeck, Professorship of Political Geography at the University of Bayreuth


Prof. Dr. Guido Hausmann, Professorship for History of Eastern and Southeastern Europe with focus on Russia / Soviet Union and Ukraine at the University of Regensburg, and President of the German-Ukrainian Historical Commission


Tim Pargent, Member of the Bundestag, Bündnis 90/Green Party


Moderation:

Dr. Julia Eichenberg, Freigeist Fellow and head of the research projects "The London Moment" and "Interpretive Struggles in Transition" at the Institute for Franconian Regional History at the Universities of Bamberg and Bayreuth


PD Dr. Florian Kühn (UBT/Gothenborg) will join as co-moderator. Dr. Kühn is a political scientist and scientific coordinator of the project "Interpretive Struggles in Transition".